Undercurrents Gallery and Minesweeper Collective proudly present:
RANDOM ARTISTS
Exhibition Opening Show
Friday 30th September 2016
7pm – Midnight
   Random Artists is a London based collective which have been putting on open access exhibitions in reclaimed and occupied spaces in the UK and touring Europe, since 2001. Taking a DIY attitude towards the need for creative spaces that are organised and constructed by the artists themselves. At the heart of the Random Artists Collective is the Temporary Autonomous Art project (TAA), a 4 day smorgasbord of art, completely open to anyone to show work, free and inclusive, where time-honoured art forms sit comfortably amongst digital work, sculptures, installations, films, performance and music.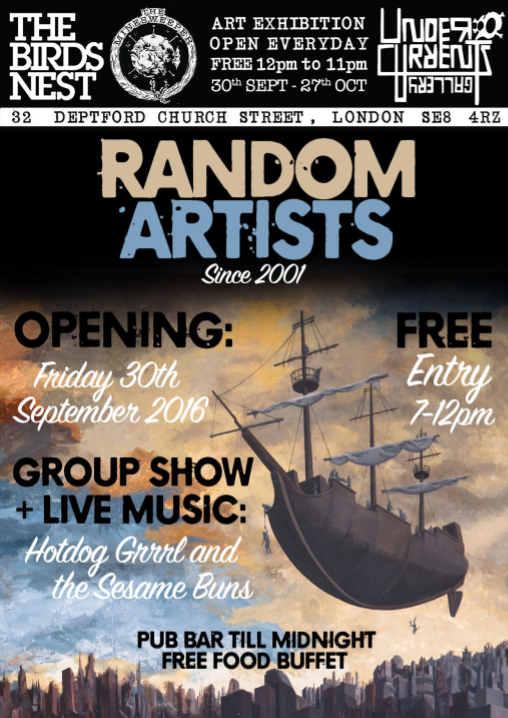 Artists Exhibiting:
Amos Stein / Dave Stitch / Laurence Jansen / Lorraine Huddle / Lucy Scotcher / Luke Hekate /Ref Strolls / Sean Orr / Yiska Fonseca
    PLUS an occupied Dolls House Miniature Exhibition by a group of TAA collaborators! This select group of Random Artists are presenting their work for this month of October in preparation for our next 4 days open access event:  'Random Artists presents……' on 9th – 12th November!
    We have an open invitation to all artists and performers working in any medium to get involved with an event in the Ex Fed warehouse space on Eade Road in the Manor House creative community, Noth London. We are already accepting pledges of work for the main gallery space, or for themed evening entertainment – film, spoken word and performance. Send all related emails to: info@randomartists.org
LIVE MUSIC:
Hotdog Grrrl and the Sesame Buns (9.30pm) +plus more TBC
 There will be a Free Dinner Buffet served throughout the night with vegetarian option. Fully Licienced Pub Attached. Bar open until Midnight
Address: 32 Deptford Church St, Deptford, London SE8 4RZ
Brought to you by Minesweeper Collective
www.minesweepercollective.co.uk
http://undercurrentsgallery.tumblr.com/